What Our Customers Have To Say...
---
December 2018
Just wanted to shoot you a message to say how much I love your product! My husband and I stopped by your booth and bought the Ski carriers...used them today! Not only was he stoked he didn't have to carry my skis, it was easy to put on and take off. I can't even tell you how many people stopped me to ask about your product as well! Don't worry, I pointed them in your direction. Awesome creation! Courtney
December 2018
Got two of your Ski Totes and we did some hike-to terrain today. Wow - what a great product! Not only was it quick and easy to use - it made the hike way faster and easier! Thank you Mountain Goat... Tony
January 2019
Hello Mountain Goat Products. We recently purchased 4 ski totes for the family (2 regular size, 1 small and 1 child). Finally, our kids are carrying their own skis, and with our skis on our backs too, our hands are free for the walk! I actually had a nice hot cup of coffee while walking to the lifts! So cool! Laura
February 2019
Used my new snowboard carrier for the first time today hiking. so nice not to hold a frozen board in my hands - and super easy to use! Jen
March 2019
Awesome product! Been using it in Breck and Keystone for the long walks from the parking lot to the lift. Makes the walk a lot easier. Brian
---

Product Reviews
---
Mountain Goat Ski Tote Review By DSJ
DSJ, like a lot of folks these days, has joined the growing trend and decided to get more adventurous with our skiing this season. Unless you've been living in a tree well for the last five years, you're no doubt aware of the exploding popularity of back country skiing.  But how many of us are actually able to commit the time, the money for special equipment, and the safety training to do it properly?
There is a compromise available, however, in the form of inbounds "hike-to" or "side-country" terrain that is being embraced by many big western resorts and requires none of the commitments above, but only a good set of thighs and a sense of adventure.
I'm excited about the idea of earning my turns, and wherever, and whenever, I get the chance to take on any hike-to terrain, I have resolved to maximize it.  But, what I don't have is a pack to carry my skis.  Actually I do, but I won't use it because I hate wearing a pack for resort skiing!  It's extra weight, a hassle on the lift, and everything I normally carry fits easily into my pockets.  As a matter of fact, in the past I just carried the skis over my shoulder.  This leaves your poles as extra baggage rather than tools for optimum efficiency and balance, and just basically sucks.
So that's when DSJ did some googling and found some pocket sized ski carriers.  We all know about ski carrier straps, and although some are perfectly functional for off piste use, they are almost all marketed mainly to beginners carrying their skis to and from the parking lot.  We believe there is a whole new market for these among expert skiers heading off piste with the Mountain Goat Ski and Snowboard Tote.
Our Criteria for this product was pretty straight forward:
1.)  Simple and quick to use on wide skis
2.)  Comfortable to wear on your back
3.)
Folds easily for compact storage in your pocket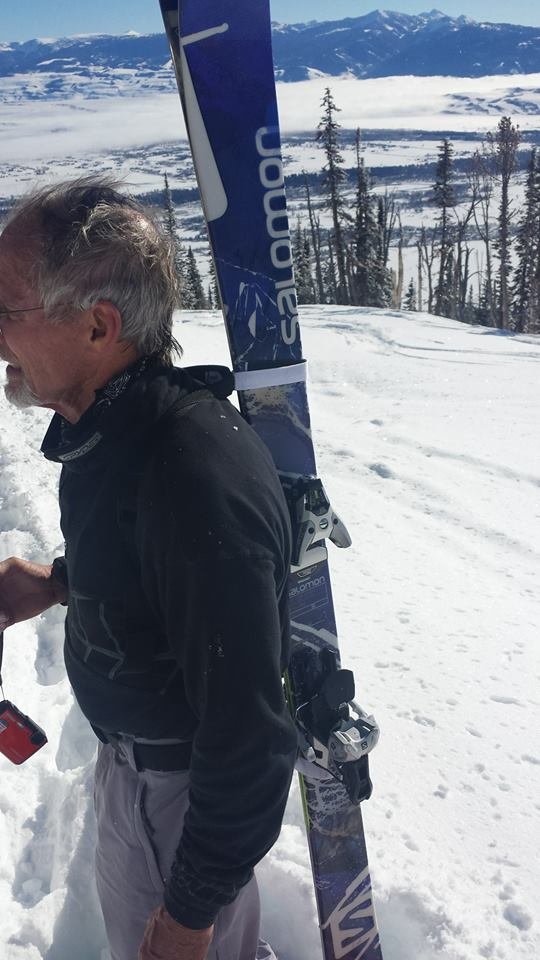 MOUNTAIN GOAT SKI TOTE
The Mountain Goat Ski Tote, is fairly unique in that it is actually designed and marketed toward family and side-country applications as an alternative to wearing a pack.  While it is minimal and compact, it is a burly design and should stand up to continued usage for years.  With two attaching straps, the payoff is a nice secure and balanced load.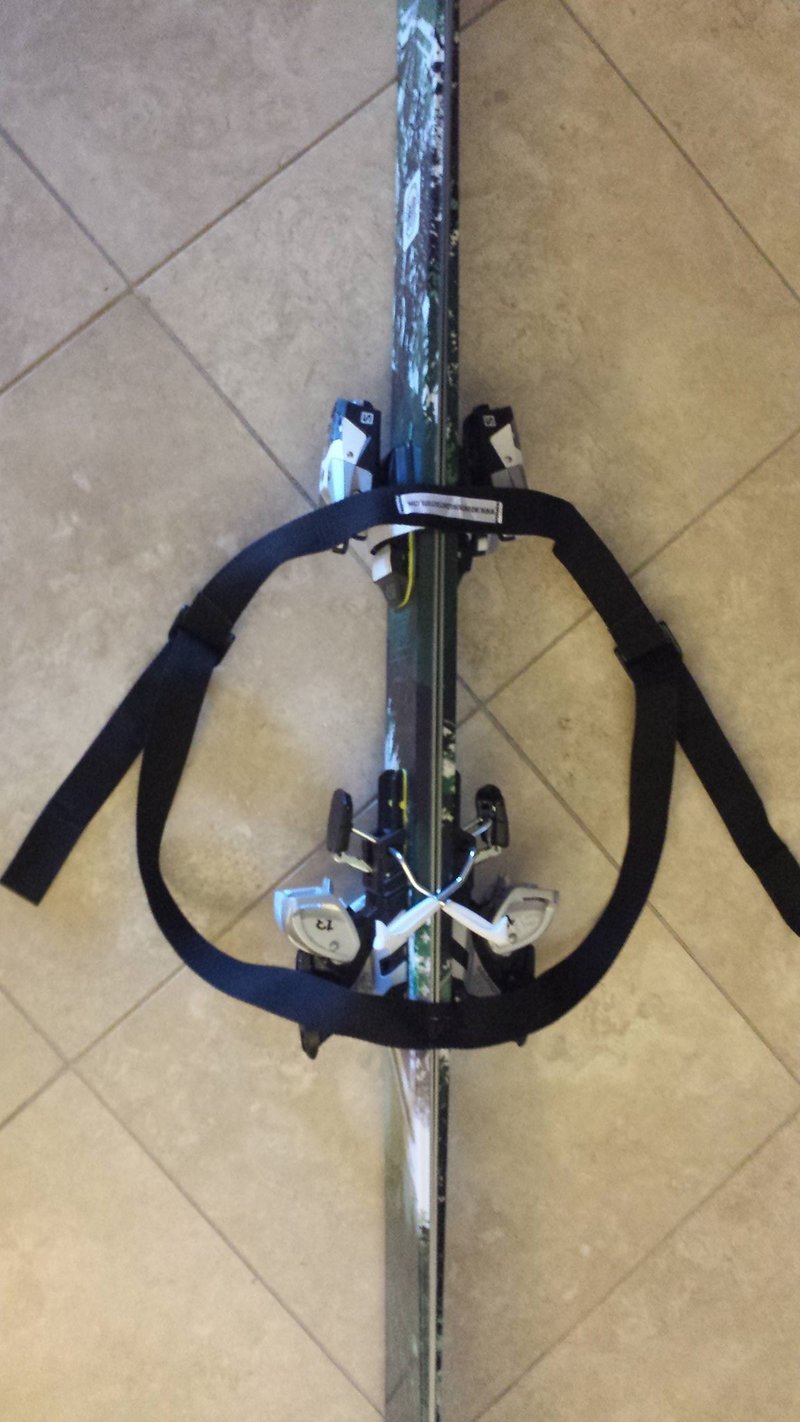 MOUNTAIN GOAT LAYOUT
We found the optimum method of attachment to be below both the toe and heal pieces. Keep the shoulder straps loose for ease of entry, then cinch down till the skis ride high enough to be supported by the bottom attachment.  Removal is easy, just loosen the straps and let them fall off the shoulder.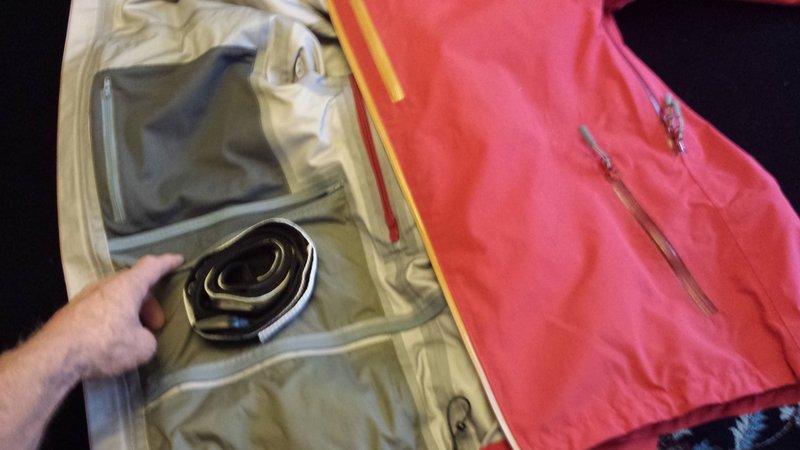 Mountain Goat folded
Mountain Goat Ski Tote by Brave Ski Mom
We've recently tried another strap system from 
Mountain Goat Ski Tote
, and now we're singing its praises, too.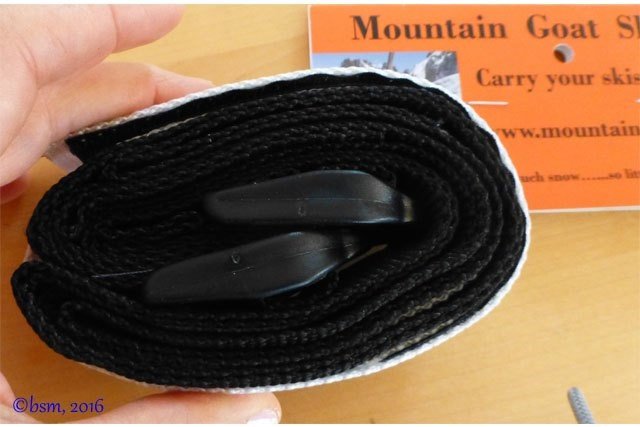 Mountain Goat Ski Tote, all rolled up.
Easy to attach to your skis, the 
Mountain Goat Ski Tote
 centers ski weight and mass on your back for comfortable carrying and climbing. We think carrying the skis with equal weight on both shoulders is less fatiguing. Plus the skis are secure and don't move around, even if you bend forward.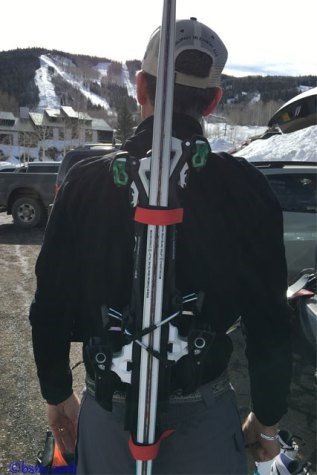 The straps slip on like a backpack and are easy to adjust and comfortable. When you're done using the Mountain Goat Ski Tote, just roll it up and stuff it in a pocket.
It's an excellent ergonomic choice for bootpacks and climbs. We're told that the straps tighten down small enough for a five-year-old to carry skis, making it a good option for getting kids from the parking lot to the lodge.
The Mountain Goat Ski Tote also comes in a snowboard version.